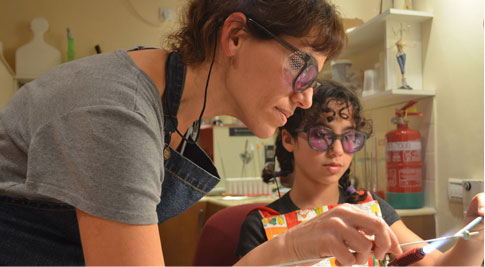 I'm so happy you've come to visit me here!
My name is Racheli Lila and I am a naïve artist.
The kind that dreams of a better, more pleasant and optimistic world.
When I create LILA I see women who decide to take one step forward, who stop hiding and want to be seen, to be connected to and to be known.
Each character has brought inspiration to my life and comes with a story and accessories dear to her heart,
I invite you to choose your LILA or give a gift to someone you particularly love.
Each time you put LILA on you will feel protected, enclosed, connected and a little more special.
Yours,
Racheli
The LILA Story
LILA was born out of a love for childhood, design, art and the need of each one of us to be special. Each item is handmade and is a combination of several materials and techniques, making each piece of jewelry unique.
With humor and innocence, LILA frees our inner child and gives her a place of honor, near the heart. It reminds us to laugh about nonsense, to jump in puddles, to get excited about a rainbow in the sky, to seek adventures and especially to be who we are.
You can collect LILA characters, order identity cards and accessories for each one, and make them a gift to someone very special.
You are invited to choose the LILA that was created just for you.